Helios Global Technologies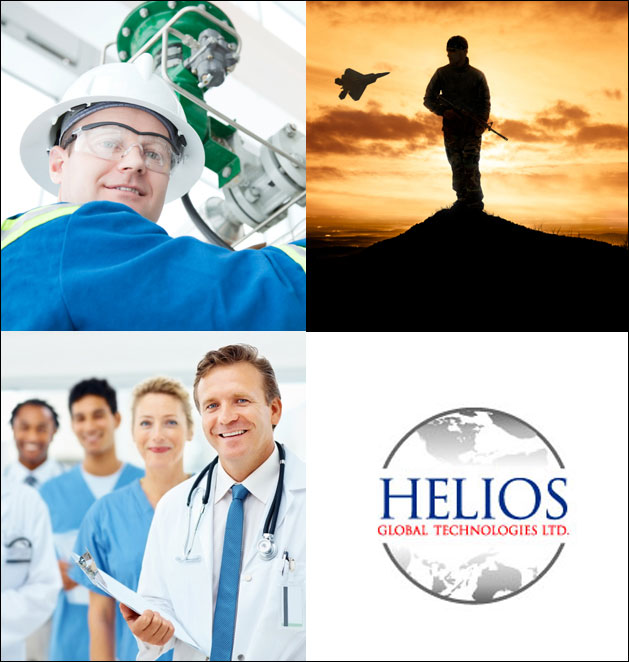 Helios received financing support from Community Futures to help them develop their products, markets to help their company grow. Helios Global Technologies Ltd is a privately owned technology and solutions company with three divisions of product and expertise: Helios Global Tracking; Helios Defence and Security Research; and Helios Medical Group. They offer proprietary tracking and lone worker technology and industry leading solutions for clients operating at risk in a global market, as well as bringing forward leading edge technologies for survivability in the military and law enforcement sectors and advanced medical device technology.
Helios' tracking and communications solutions combine advanced hardware and the user-friendly Helios 360° software platform to enable clients to track and monitor fixed assets, personnel, vehicles, aircraft and maritime vessels. Their global network can monitor over 99% of the earth's surface and the Helios 360° software platform constantly updates the location of an individual, team or asset. All of their hardware can be programmed to send and receive messages, as well as transmit panic messages containing the exact coordinates of your valuable assets for successful search and recovery. As a Helios client, you will receive customized solutions and outstanding service. Helios understands the demanding environments in which clients operate and cannot offer anything less than around the clock, 24/7, emergency client support. You can rest assured that your needs will be thoroughly addressed in an efficient and cost-effective manner so that you can focus on your primary objectives.
Helios' defence and security technologies, many of which are offered under a joint venture with Vorpal Technologies in the United Kingdom are focused on survivability in the broadest sense, with an array of sensor, communications, power management, and protective material solutions designed to allow our clients to "Track, Communicate, Sustain and Protect".
The Helios medical group are dedicated to offering cutting edge medical device technology, consistent with their objective of providing life saving solutions. Helios are distributors for Cinglebit and Cinglepin by Cingular Orthopaedics . This system has been designed to ensure an inexpensive, accurate, sharp and sterile instrument is provided to the surgeon and patient – every time.