RackForce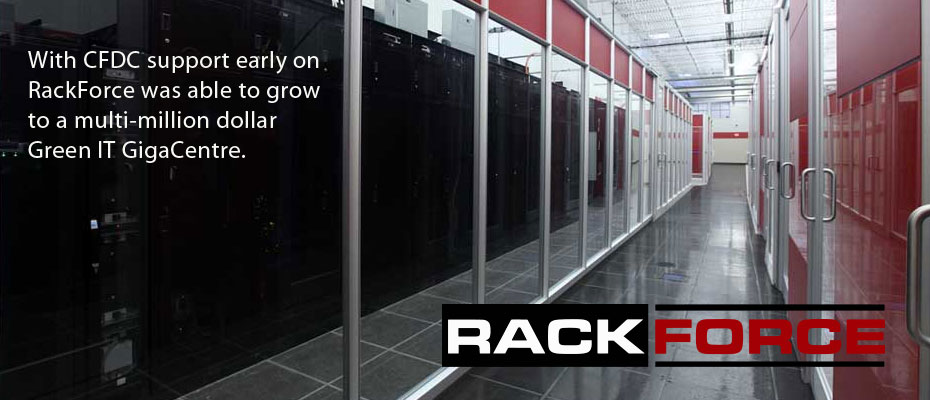 Tim Dufour and Brian Fry founded RackForce in 2001 with the idea to bring a high-tech data center to the Okanagan Valley. Business quickly started expanding and the demand for their services was rapidly surpassing their equipment. In 2002 they approached Community Futures about support for hardware needed to keep up with their demand. As the company grew, RackForce opened up its first phase of a multi-million dollar state of the art 30,000 square foot green energy GigaCenter which will support demanding next generation IT systems to a worldwide base. RackForce is now one of the most advanced data centers in the world and Community Futures is proud to have been a part of their success.
RackForce, Canada's largest Enterprise Cloud Service Provider, provides its services nationally and globally. In operation since 2001, RackForce has served over 12,000 customers to date ranging in size from SMB to Fortune 100 with substantial growth in the public sector including K-12, Advanced Education, Federal and Provincial governments.
RackForce's roots are based in IT and Communication infrastructure hosting where it earned a reputation for leadership and innovation. RackForce has consistently provided market leading services by selectively leveraging emerging technologies to provide cost effective, innovative offerings. For example, as the first hosting service provider to adopt virtualization, Linux and open source management platforms, RackForce has provided more function and performance for the dollar than its larger American peers. RackForce delivers Cloud Virtual Machines, Virtual Data Centers, Cloud Storage and Cloud Backup from four geographically separated Canadian data centers all connected together by RackForce's national 10Gbps network.
Today RackForce's core business focus is to deliver secure, reliable, cost effective custom solutions for the enterprise market. It enjoys strategic relationships with technology leaders, such as, VMware, Cisco, IBM, Mitel and Kaltura. This provides RackForce early access to game changing intelligence, products and solutions and translates these advantages into the development of new advanced enterprise-class services, leveraging both its legacy capabilities and culture of innovation and the industry's best technology. RackForce's enterprise cloud services include IaaS and SaaS services.
In March of 2015, Rackforce was sold for $33M to TeraGo. www.rackforce.com